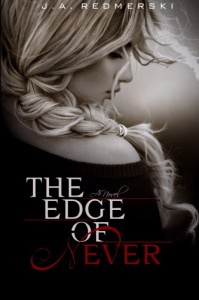 As much as I want to say that I loved this book, I simply can't. Don't get me wrong, it is a good book. However, it is not that good. Or maybe it was because I started The Edge of Never with high expectation since a lot of people told me it was so good that it would leave me heartbroken after reading.
When I read the first 10 chapters or so, I was so into the book. It was full of surprises. Heck, I love surprises. I was literally on the edge on my seat and "ooh" & "ahh" quite a few times that I am not ashamed to admit. It was, in my opinion at that time, one seriously great book.
Then things started to get a bit messy and weird when Camryn and Andrew began to talk about sex. It was just so unpredictable. I had already knew that there would be sexual content in the book, but it still took me by surprise. At that time, I didn't know I was fond of surprise anymore. Not when it was that kind of surprise. The book became a bit kinky.
Anyway, I loved the characters. Camryn and Andrew were great together. The plots and the wording were also nice (except for that "surprise" part), so it was nice and fun to read.
It was supposed to be a tearjerker, but my eyes were as dry as Sahara desert. It made me wonder if it was me or the book was not that emotional as it is said to be. I was happy that the book ended with a happy ending.
Well, to sum up, the book was good enough to read. Entertaining? Yes. Sweet? Yes. Emotional? Maybe. But it didn't rock my world as I hoped it would.
Originally Posted in:
Gisbelle's YA Obsession